Department Solutions
Celonis for Procurement
Every procurement department has an important mission - spending wisely to protect the company's spend and margins. The quality of your procurement processes can change the organization's exposure to costs.
Mitigate supply risks, maximize purchasing power, and cut costs by centralizing data across source systems, intelligently prioritizing the procurement team's actions, and streamlining process execution.
Over 620 of the world's best performing procurement departments run on Celonis
$800M
in procurement cost savings
96%
of POs right the first time
50%
improvement in request-to-order cycle time
Take full advantage of your existing contracts
Highly manual requisition processes, lack of transparency into available contracts, and limited standardization across PR-PO processing - all common, but all too often the reasons why POs go out the door without a referenced contract, leaving money on the table.
During a time when prices are rising, it's more important than ever to take action to improve spend under management. Identify requisitions without contracts and automatically applying the appropriate contract to ensure the contractual terms, conditions – and prices – apply.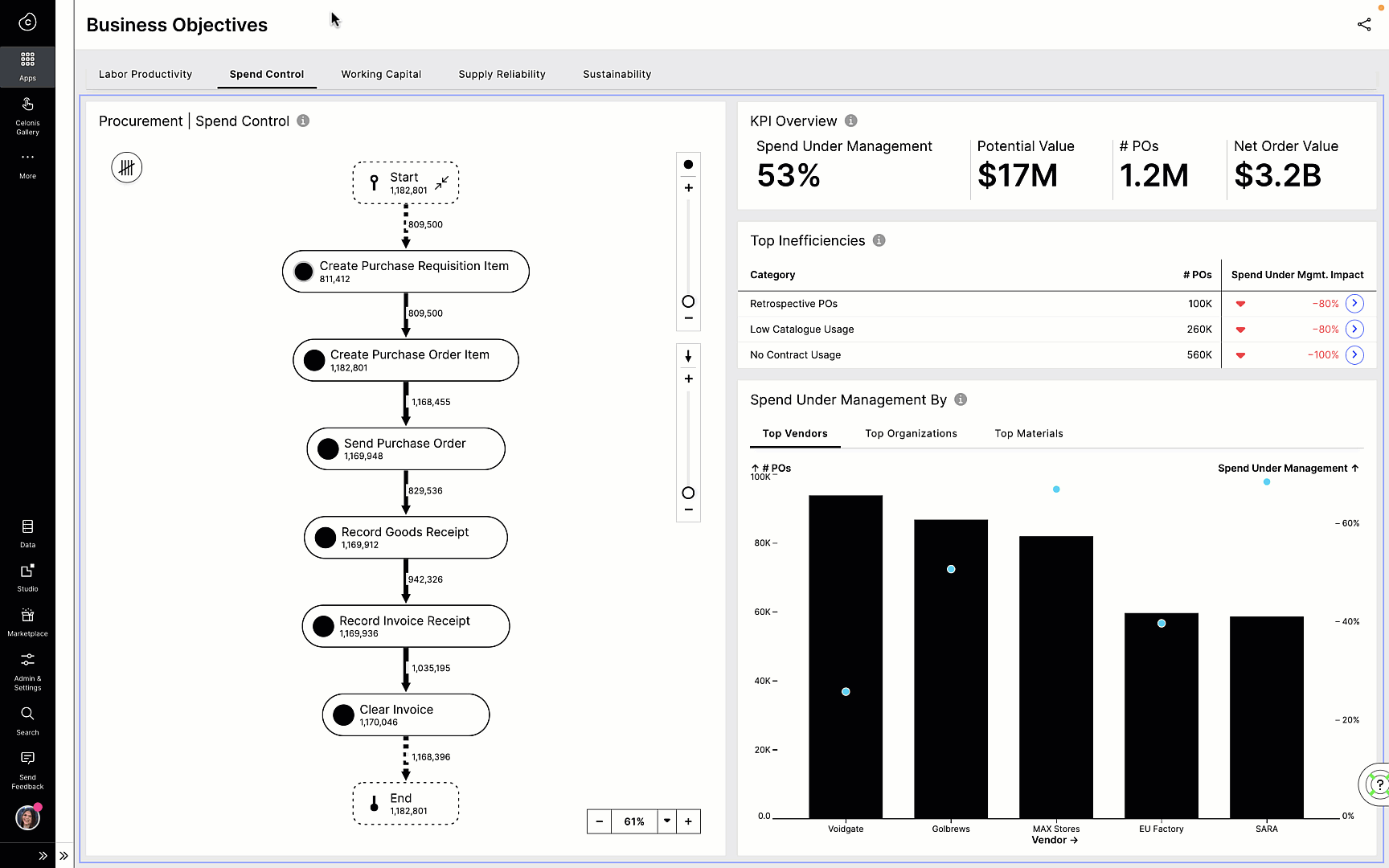 Operate with suppliers' true lead times to improve reliability
Inaccurate lead times in the master data result in delivery date changes by the supplier that cause last-minute sourcing, strained supplier relationships, and in the worst case - delays to production and customer orders. Without a mechanism to assess patterns in suppliers' on-time delivery, procurement teams are left reacting to crises.
Operate with insight into suppliers' true performance, leverage intelligent recommendations to correct lead times in the master data, ensuring improved supplier performance.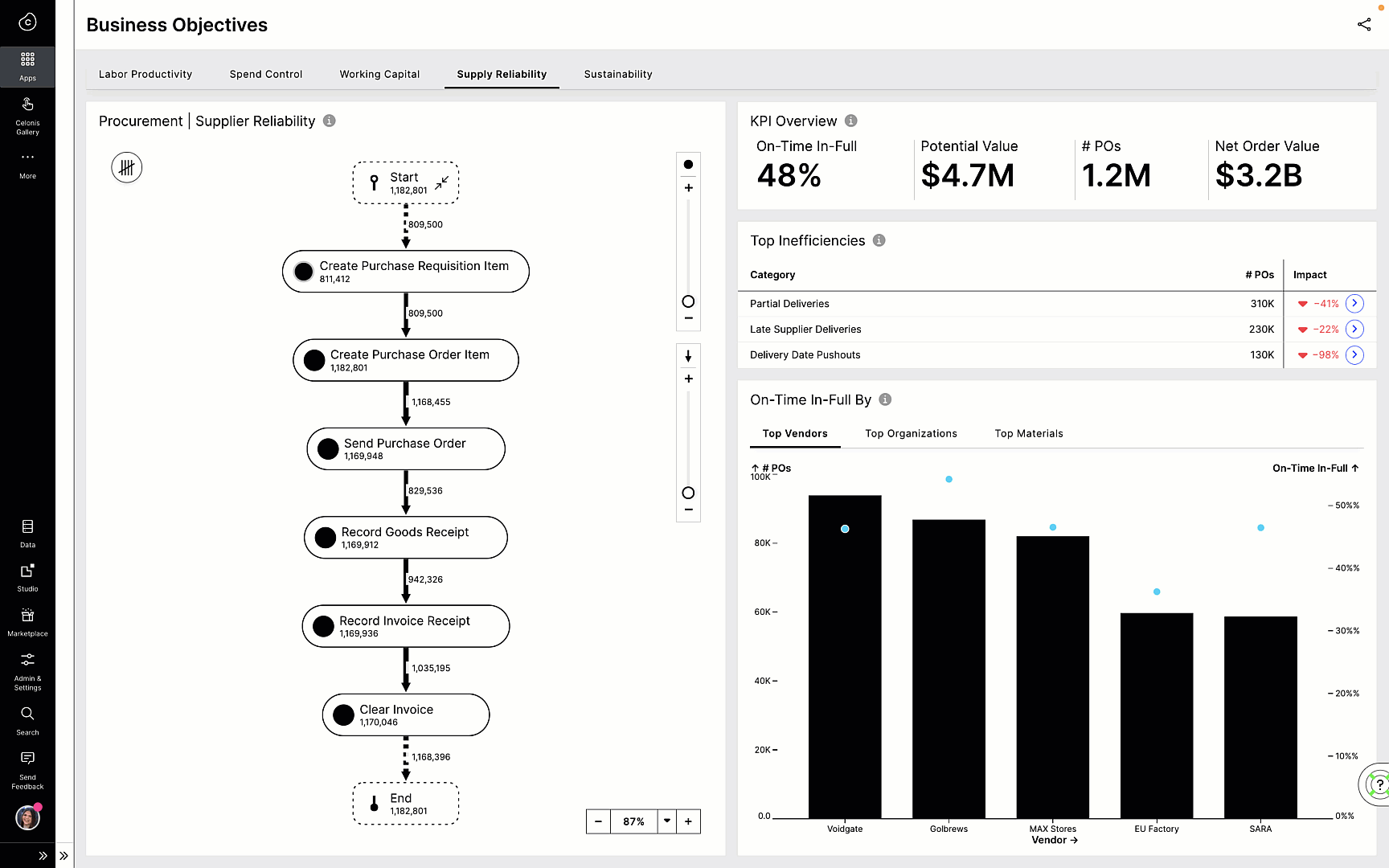 Identify value-add steps and eliminate the ones that aren't
Manual changes to purchase orders, goods receipts, and other documents can be necessary, but without insight into which touches are adding value, it's challenging to ensure your team is working effectively.
Leverage intelligent insights to identify repetitive price changes, contract reference updates, and other manual touches to take action to improve your first-time-right rate going forward.
Don't let free-text orders drive up processing costs.
Free-text requisitions typically put the burden on your procurement team to comb through existing contracts, vendors, and catalogs to appropriately direct spend where possible. And where there's an existing contract available, many systems don't automatically link it to the PO — leading to POs going out the door without the contracted price or terms.
Leverage free-text analytics to automatically match and reroute free text requisitions to catalog items where possible to maximize catalog usage, improve productivity and streamline procurement processes.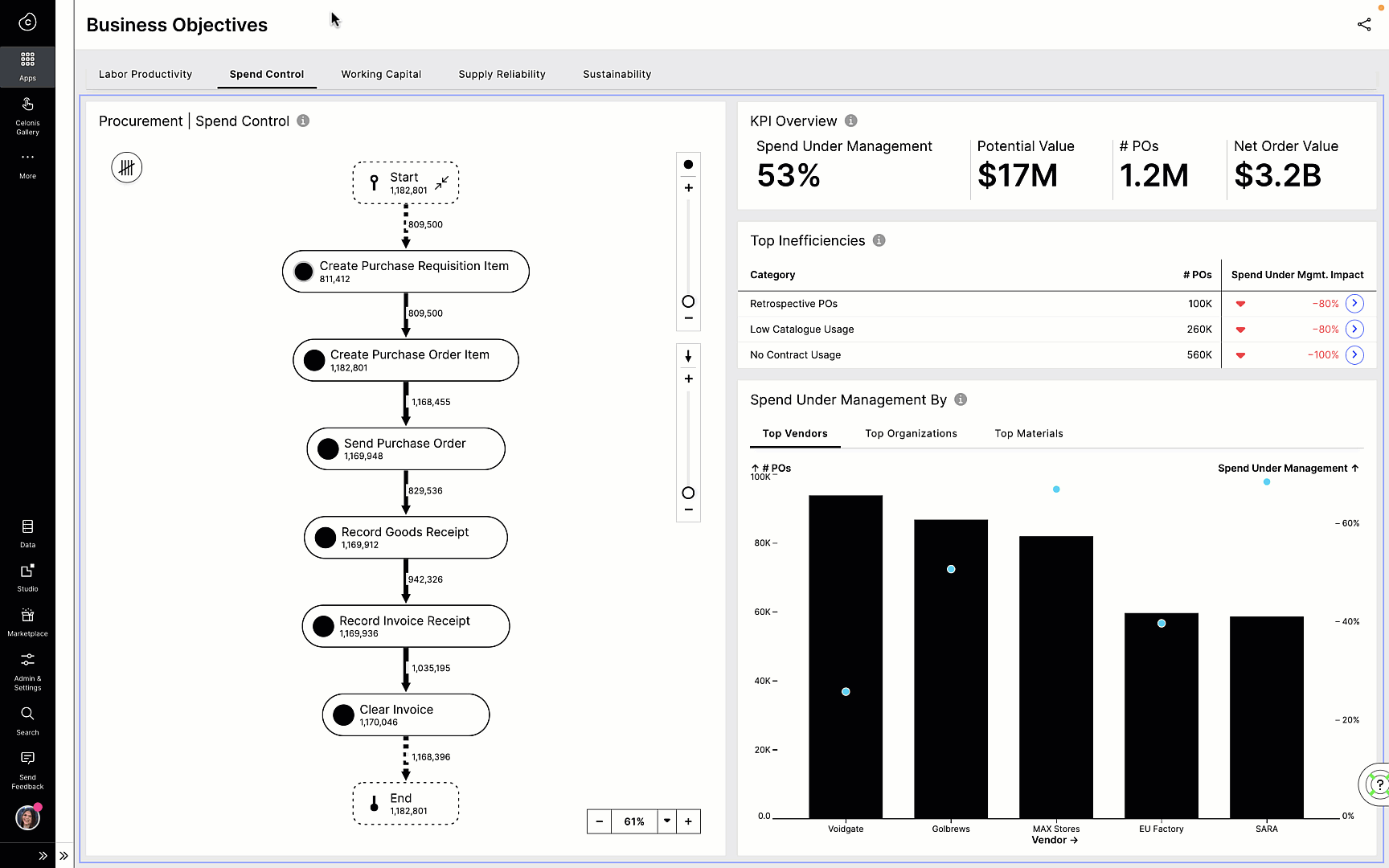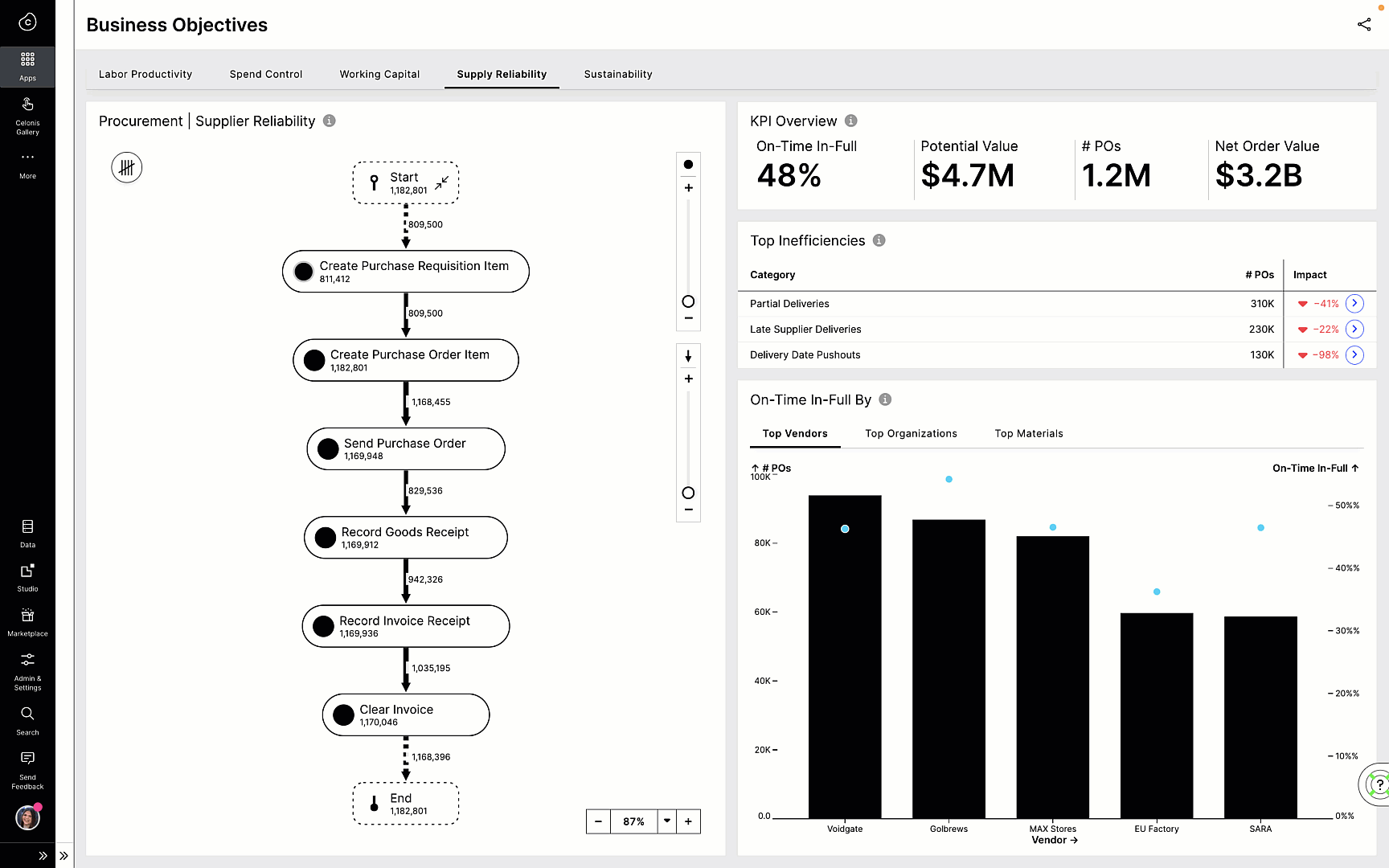 Starter Kit for Procurement
Kickstart a focused value journey with ease
The Celonis EMS opens up a near-infinite number of use cases for process improvement.
Prioritize the most powerful Procurement use cases for your organization based on the highest potential value and take advantage of guided flows to drive solutioning. Built on our repository of aggregated process knowledge, The Starter Kit helps you connect to your systems, assess improvement opportunities, and get to value that much faster.
Open PR Processing App
Control spend with fewer manual steps 
Procurement teams spend hours of manual work to ensure purchase requisitions are using the negotiated contract terms, but the current ways of working are blocking organizations from efficiently and effectively processing PRs.
With the Celonis procurement platform, gain a 360 view of all open PRs, prioritize critical PRs at risk, and assign tasks to resolve in real time, so you can ensure contract usage and boost productivity simultaneously.
Data
Integrates real-time and streaming data across systems, desktops, and documents.
Intelligence
X-Rays processes for inefficiencies and recommends improvements.
Action
Fixes inefficiencies automatically and orchestrates your existing technologies.
Process Mining For Dummies, Celonis Special Edition
X-Ray Demo: Introduction to Process Mining
Contact us
Fill in the form below and a Celonis representative will get in touch with you shortly!
Dear visitor,
you're using an
outdated browser
. Parts of this website will not work correctly. For a better experience, update or change your browser.