Department Solutions
Celonis for Accounts Payable
Siloed systems, rigid workflows, pressure to do more with less, and a changing supplier landscape have made AP departments and procedures more complex than ever. And it means Accounts Payable teams are still struggling with late payments, missed cash discounts, and a low touchless invoice rate.
Improve on-time payment while reducing operating costs by centralizing data across source systems, and streamlining process execution.
Over 440 of the world's best performing Accounts Payable departments run on Celonis
Pay on time, every time.
No one wants to pay late. But too often, high invoice volumes and three-way match failures accumulate into a perfect storm that delays processing and results in late payments.
Centralize open invoices across all of your systems and use intelligent recommendations to prioritize critical invoices and resolve payment blocks to ensure invoices are processed and paid as quickly as possible.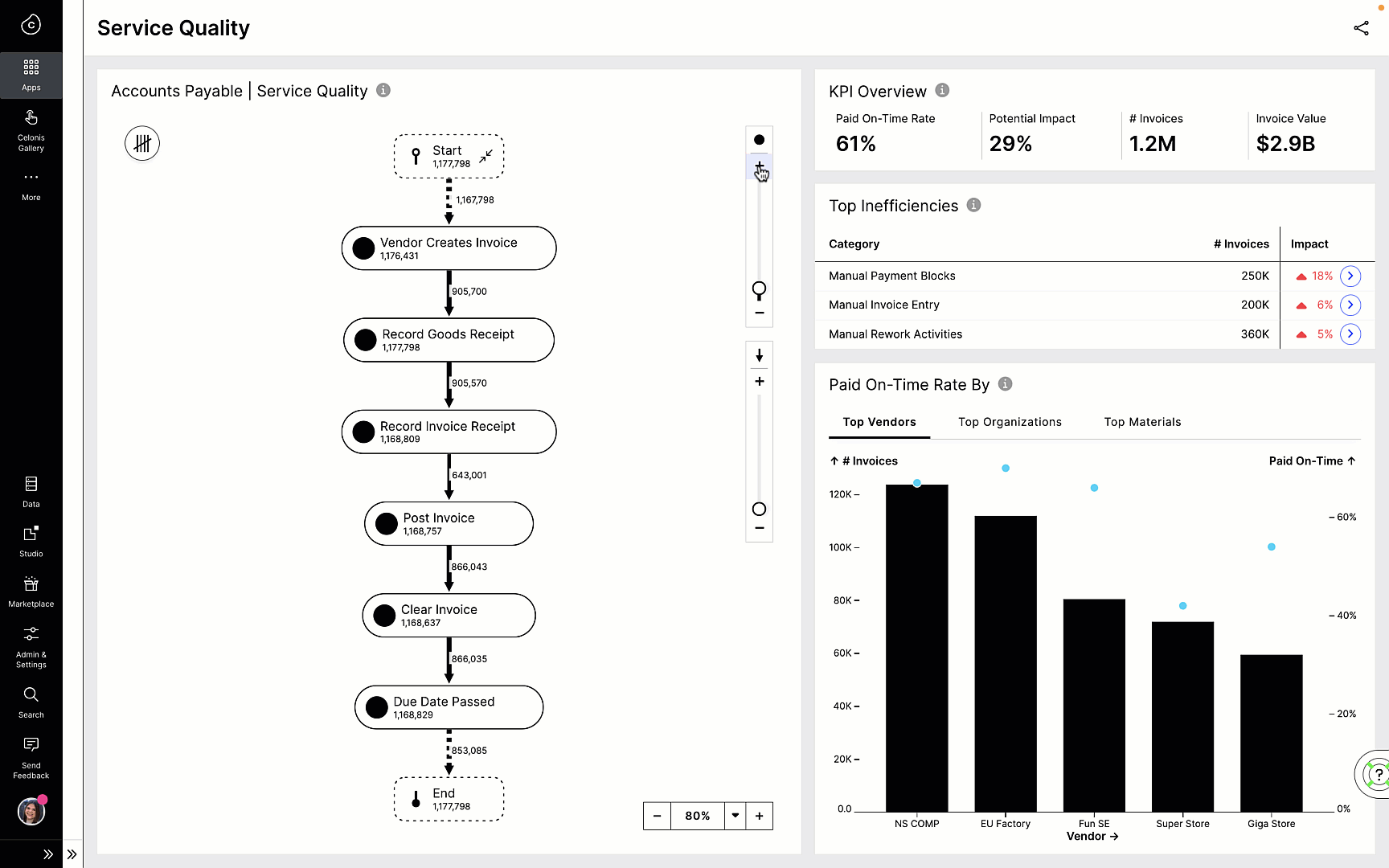 Accelerate touchless invoicing.
Manual invoice entry, outdated prices, missing currency fields, and incorrect VAT fields are part and parcel of doing business in Accounts Payable. But they also force rework, extend cycle times, and drive up costs.
Use process intelligence to identify the steps that have the most impact for your organization and remove non-value add activities. Automate necessary but manual steps such as extracting and entering data off of invoices, validating invoice fields, and benefit from an additional reduction in payment blocks, freeing up valuable time for your teams.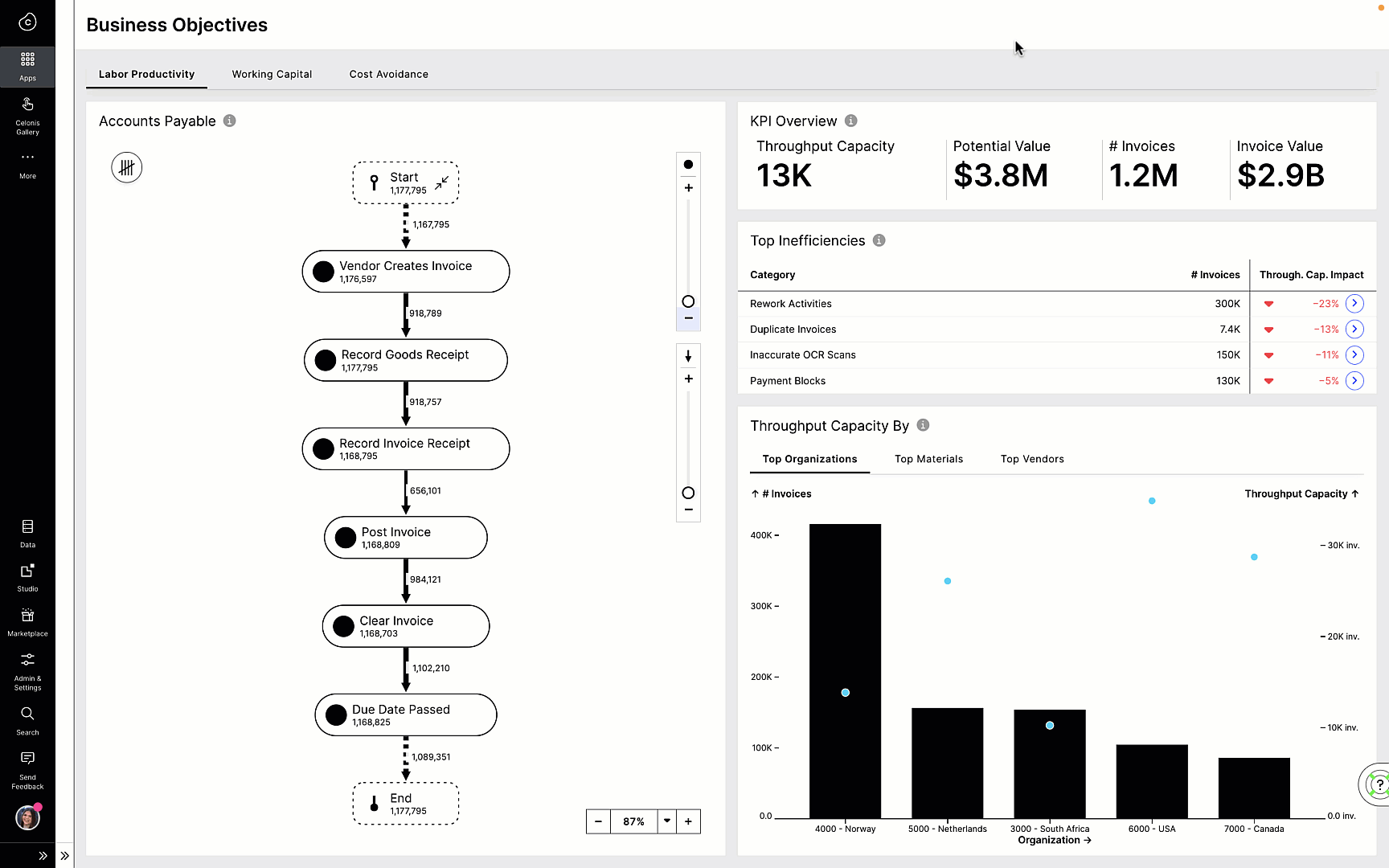 Make your working capital work for you
Accounts Payable can be one of the fastest levers to pull for working capital impact – but getting it right requires airtight payment term adherence and lengthening payment terms. A multitude of payment terms for a single vendor, infrequent payment runs, and limited data to drive negotiations can make this difficult.
Ensure that every payment adheres to the latest terms and conditions by flagging payment term mismatches between the PO, invoice, and vendor master data and actioning instances where the timing of default payment runs results in payments taking place earlier than needed.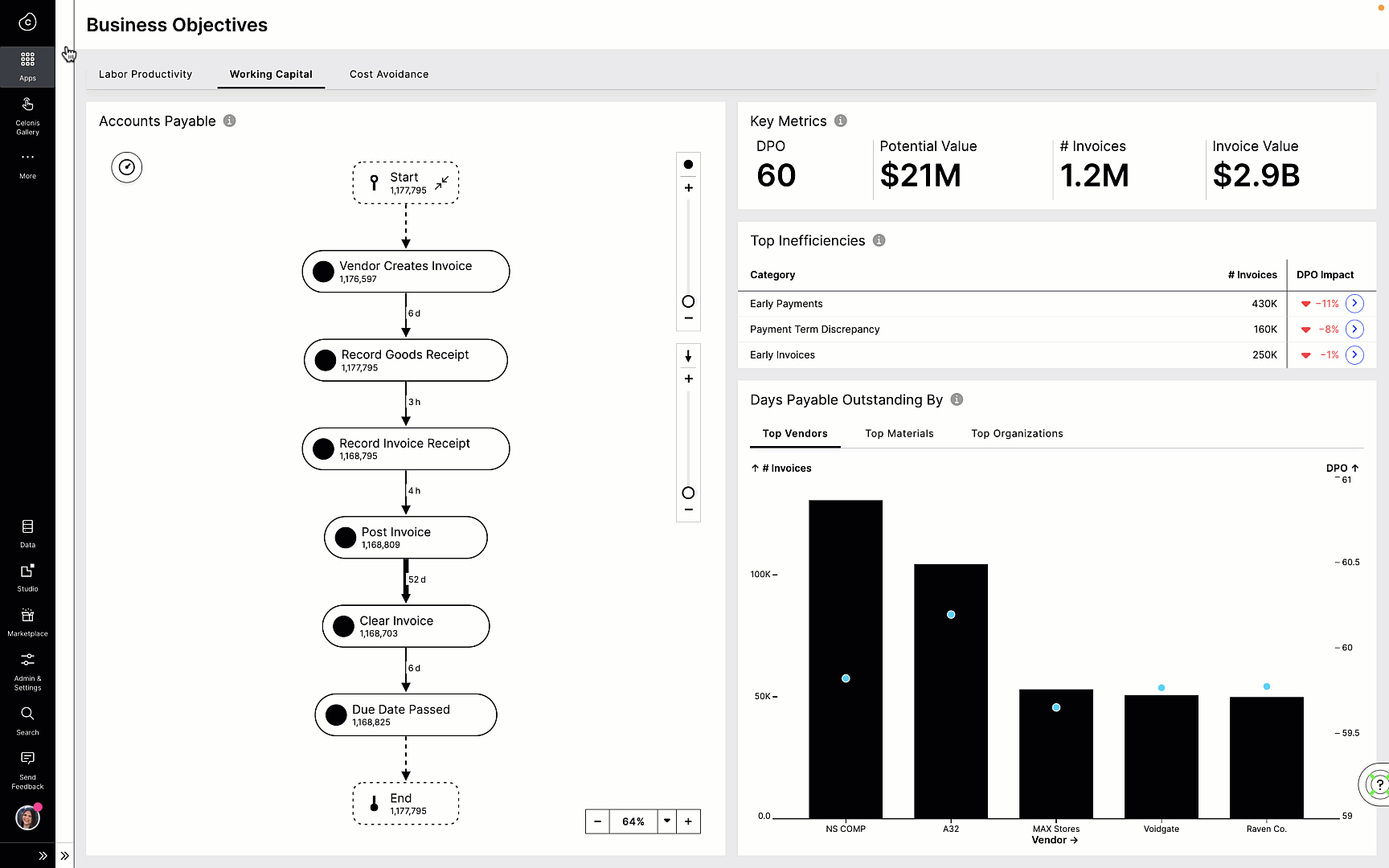 Get the cash you need when you need it most
Capturing cash discounts is increasingly crucial with a recession on the horizon. As your procurement counterparts work hard to negotiate favorable payment terms, don't let that hard-won battle go to waste by letting cash sit on the table.
Prevent parked and blocked invoices from getting in the way of cash discount realization with a prioritized list of invoices and intelligent recommendations to accelerate necessary checks, investigations, and approvals.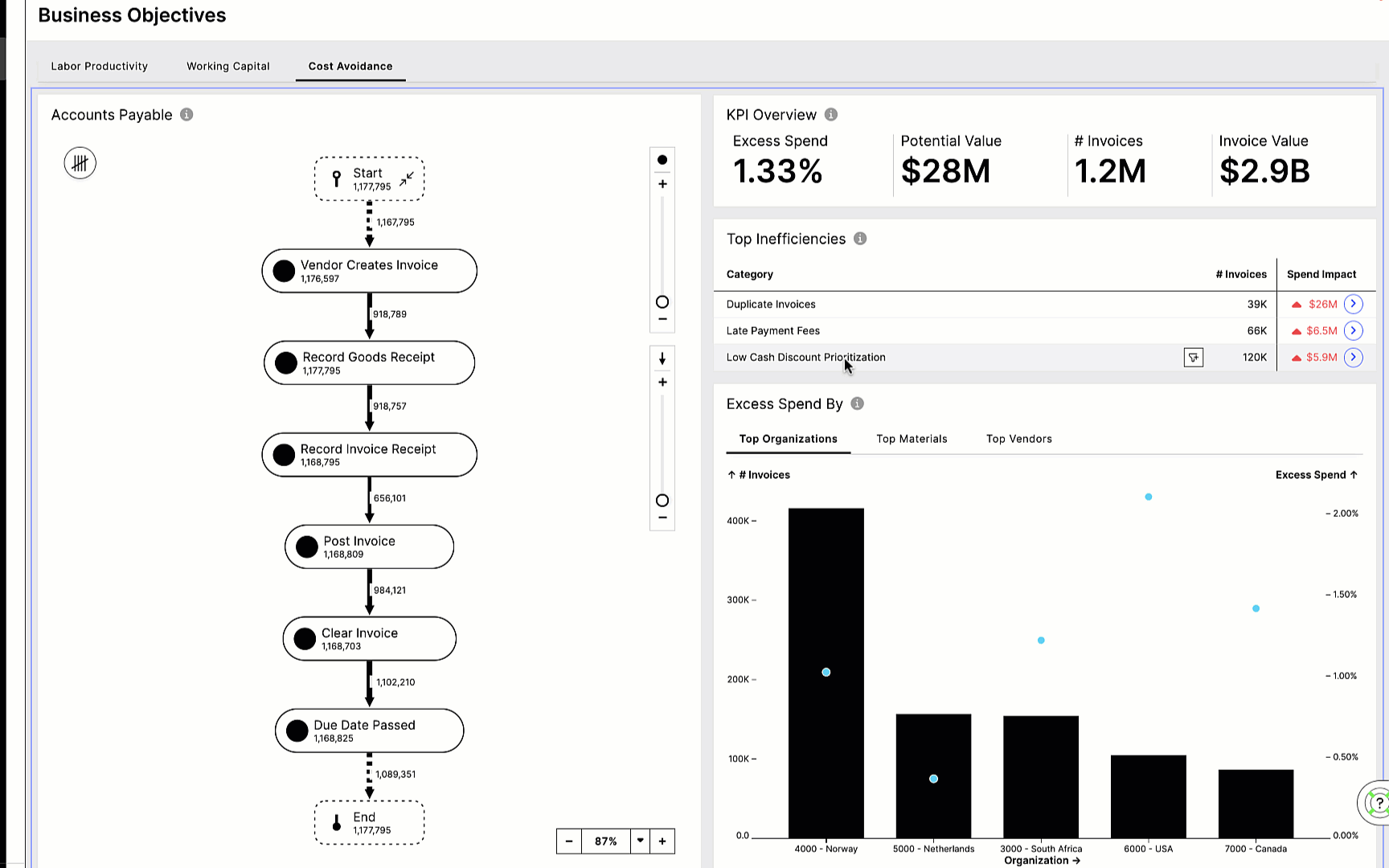 Eliminate duplicate payments.
Duplicate invoices are easily passed over and paid - causing organizations to spend unnecessarily for the same goods or services. When duplicates that have slipped past the system are identified, it's after the fact – when audit and recovery efforts are both lengthy and costly.
Monitor invoices across all of your systems, proactively detect duplicates using purpose-built machine learning algorithms, and prevent unnecessary payments right off the bat.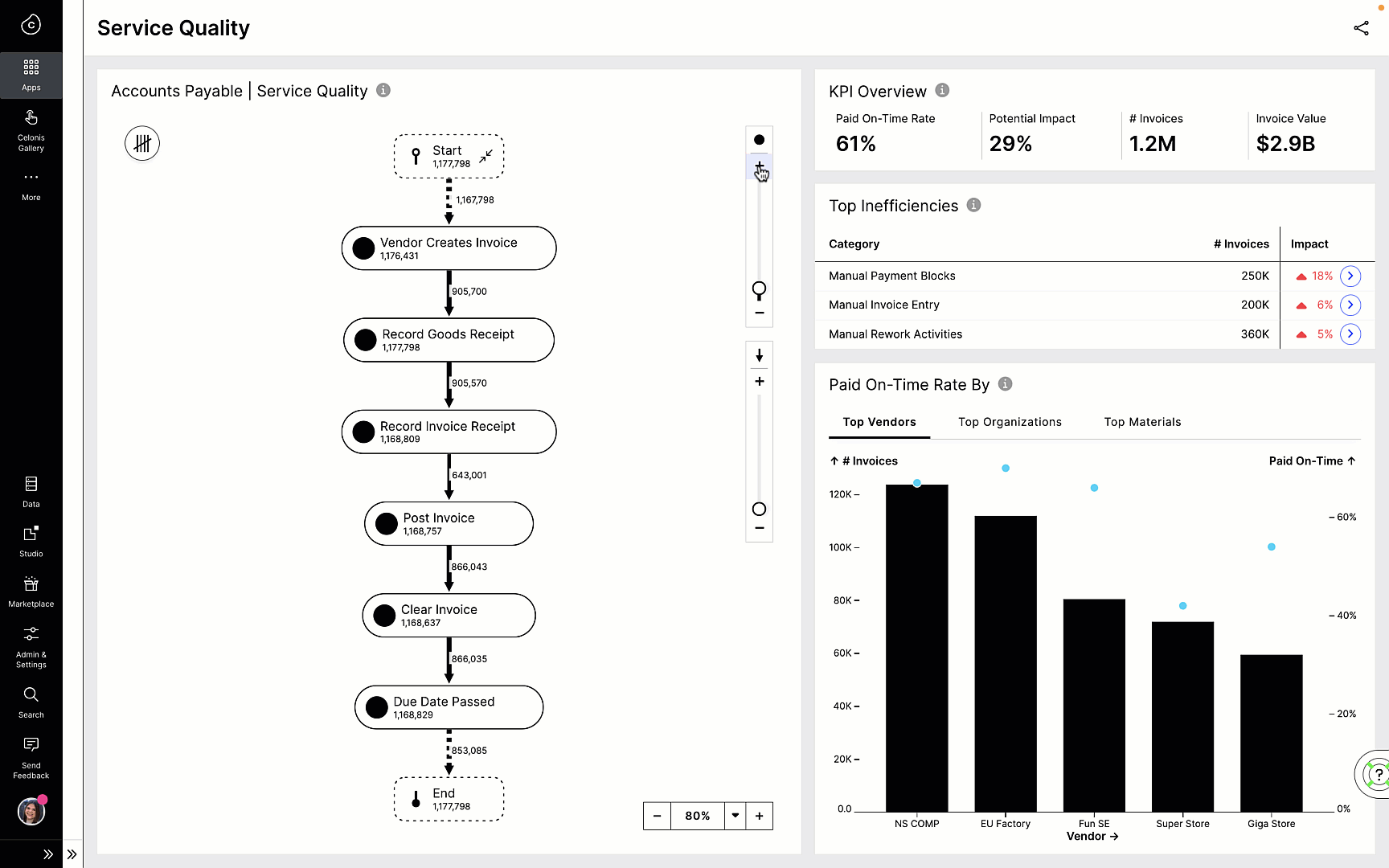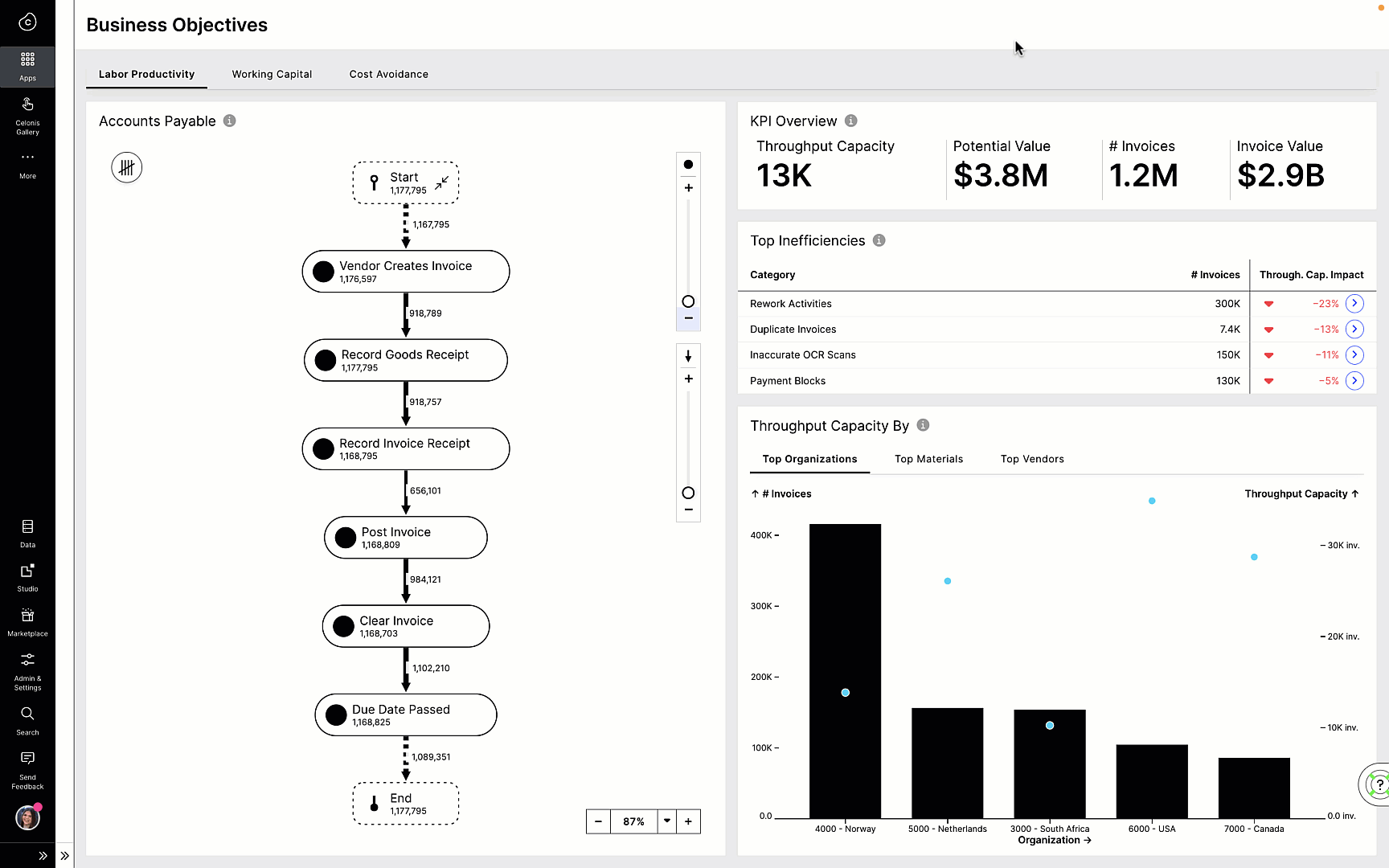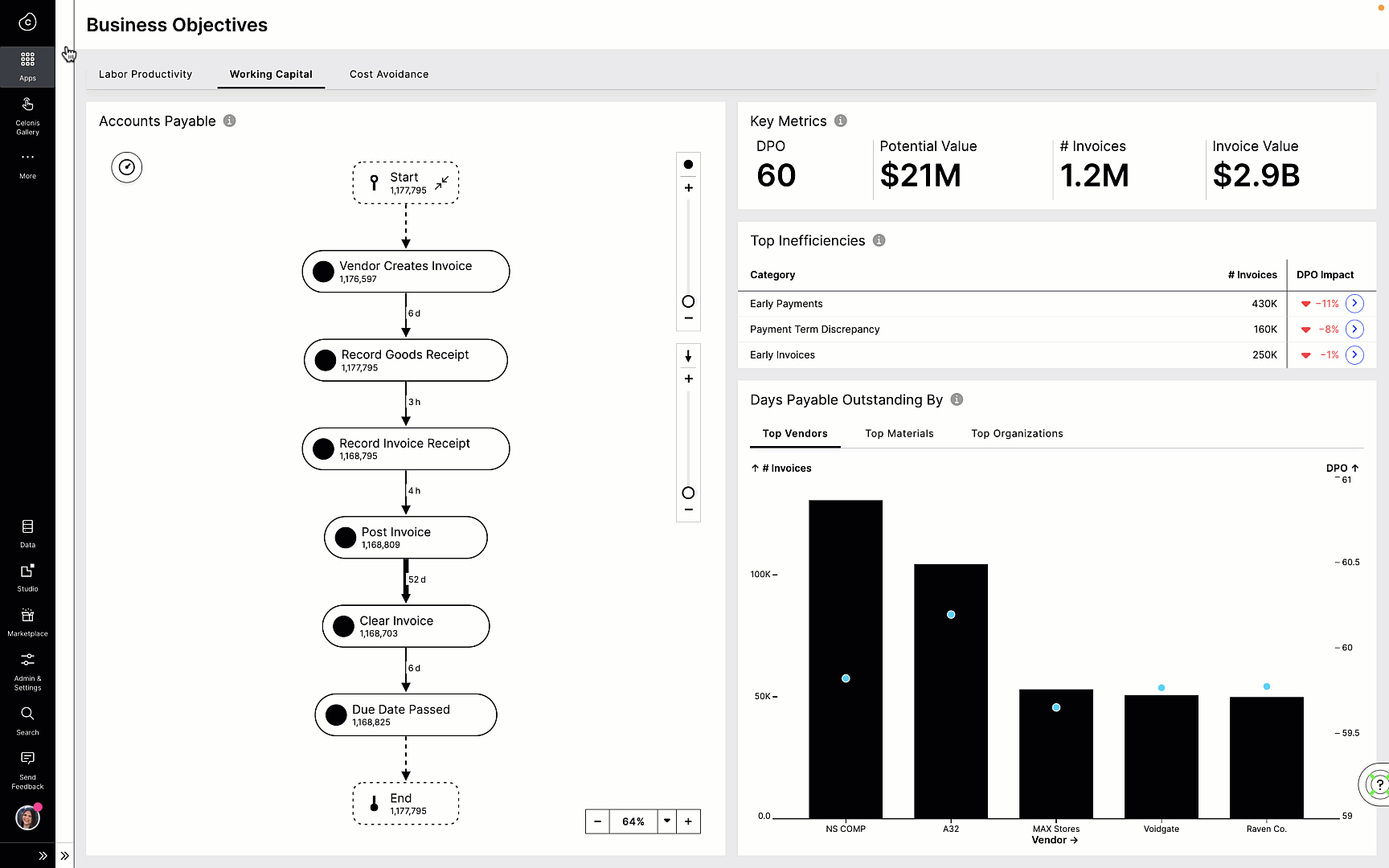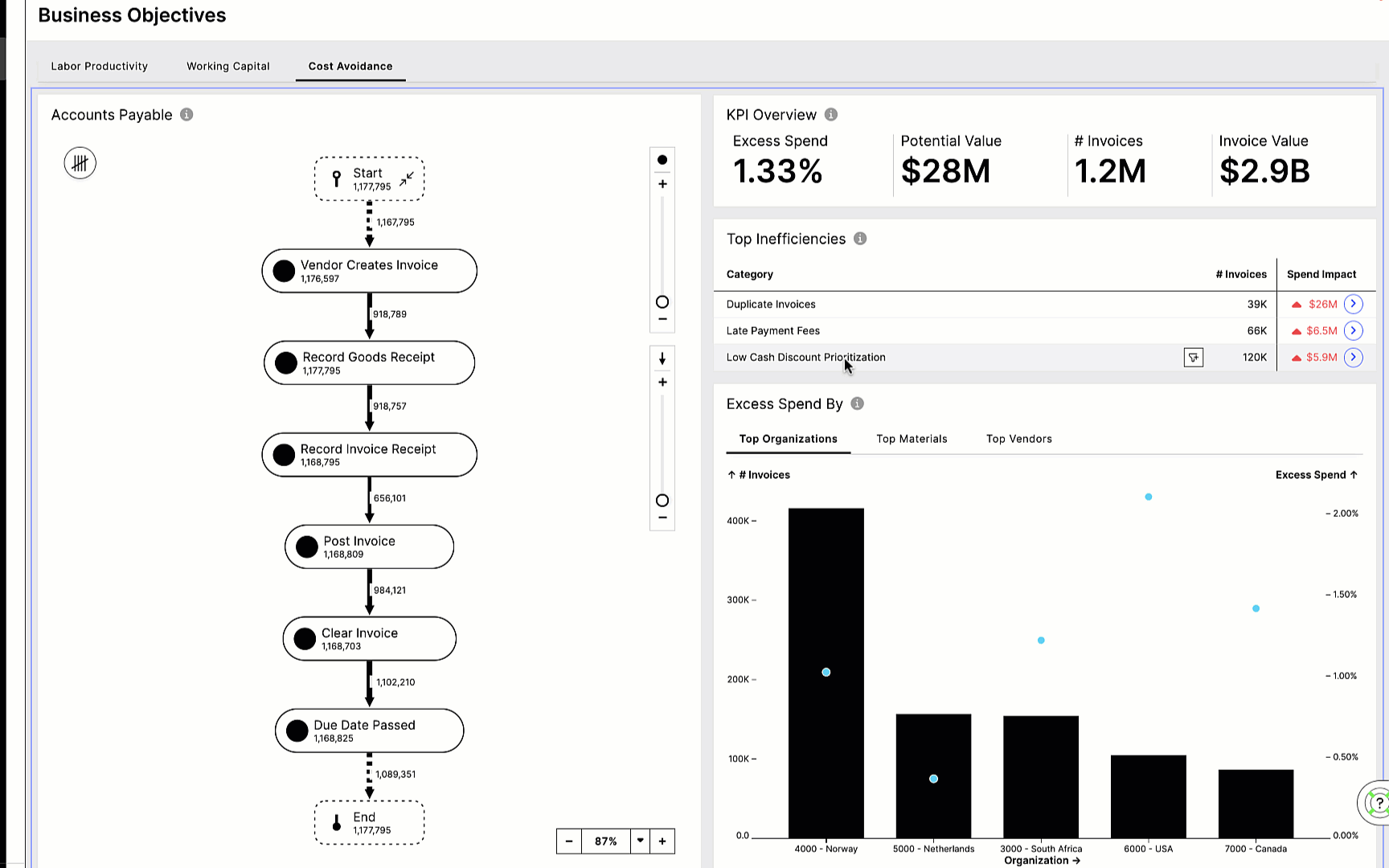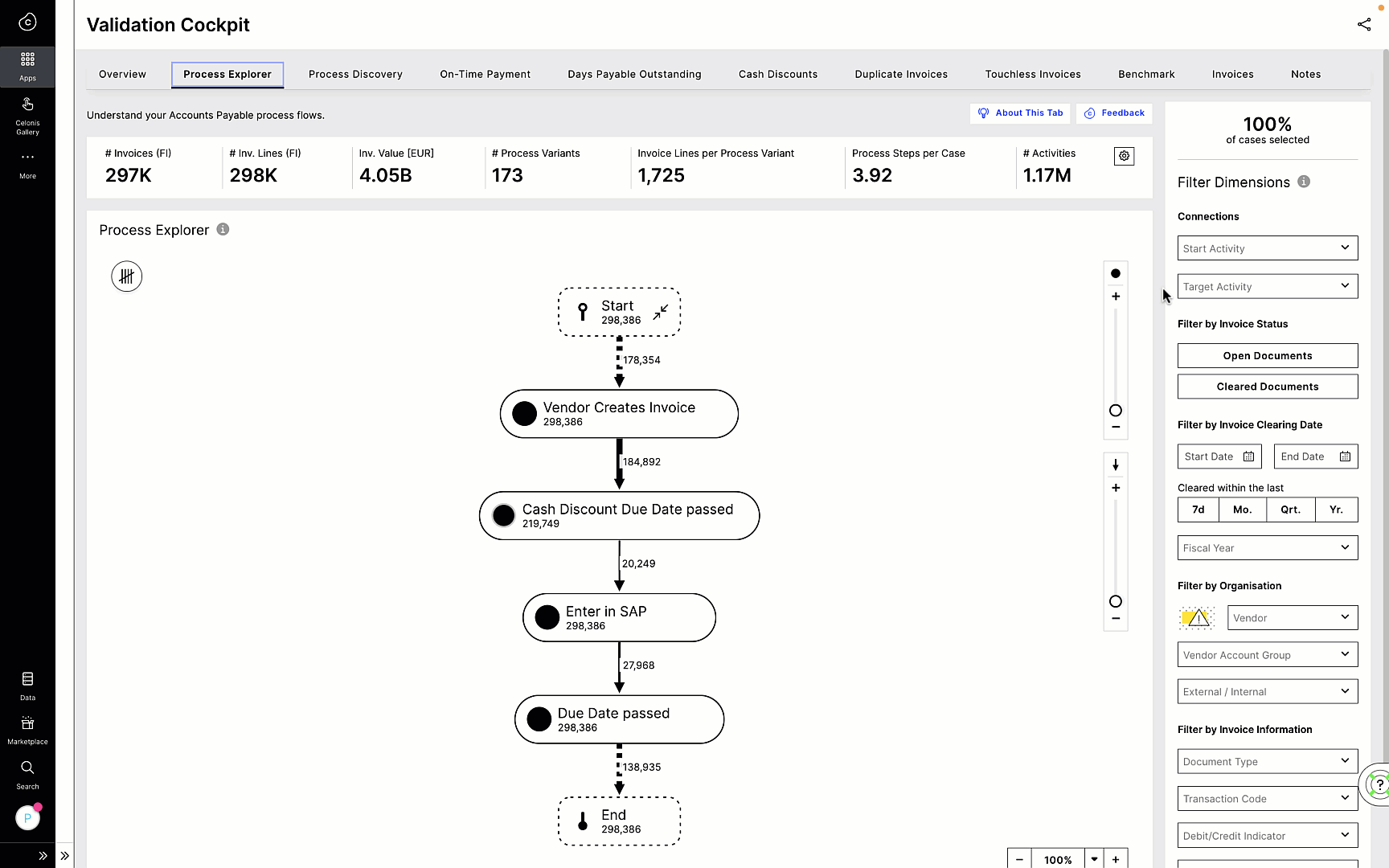 Starter Kit for Accounts Payable
Kickstart a focused value journey with ease
The Celonis EMS opens up a near-infinite number of use cases for process improvement.
Prioritize the most powerful Accounts Payable use cases for your organization based on the highest potential value and take advantage of guided flows to drive solutioning.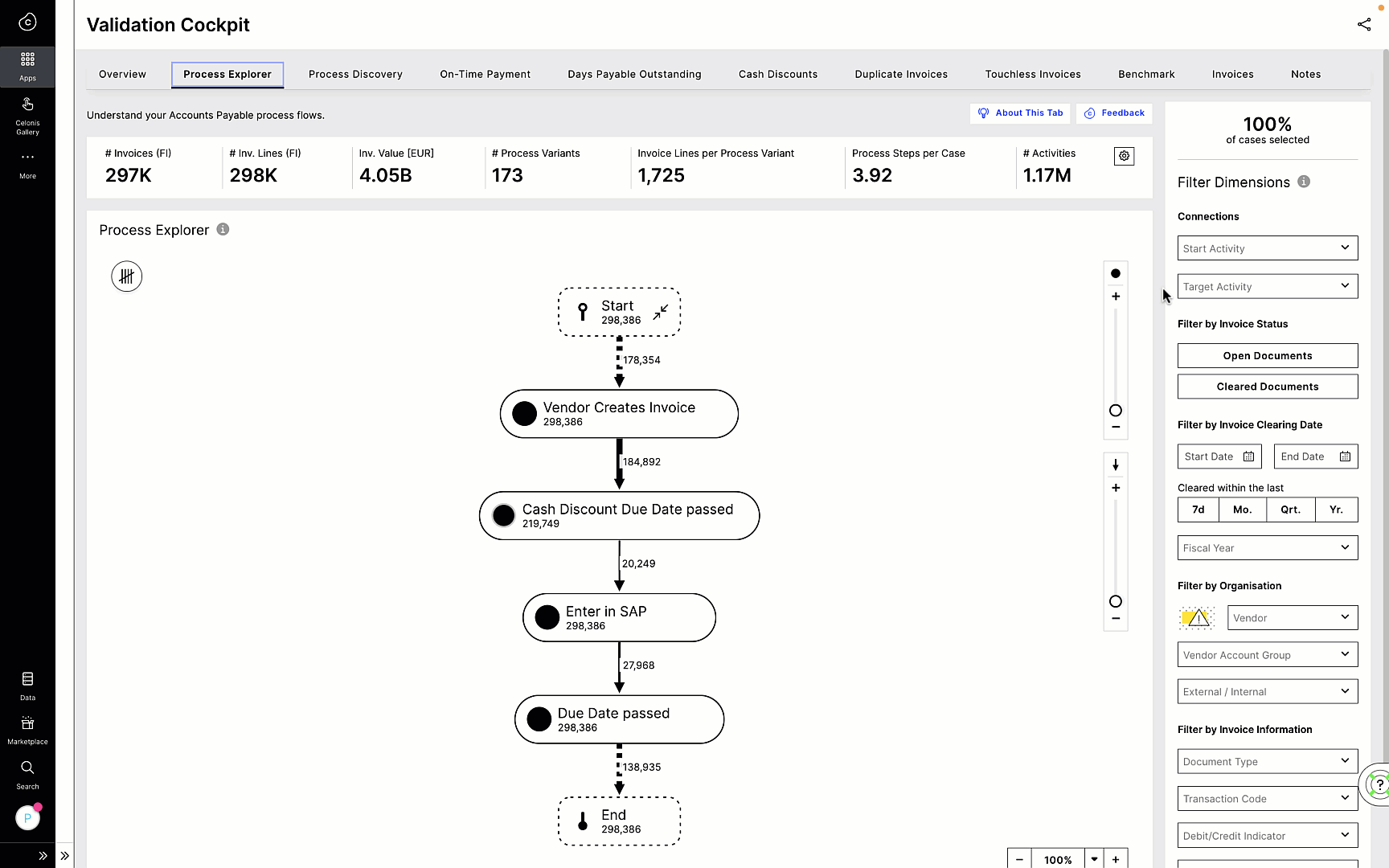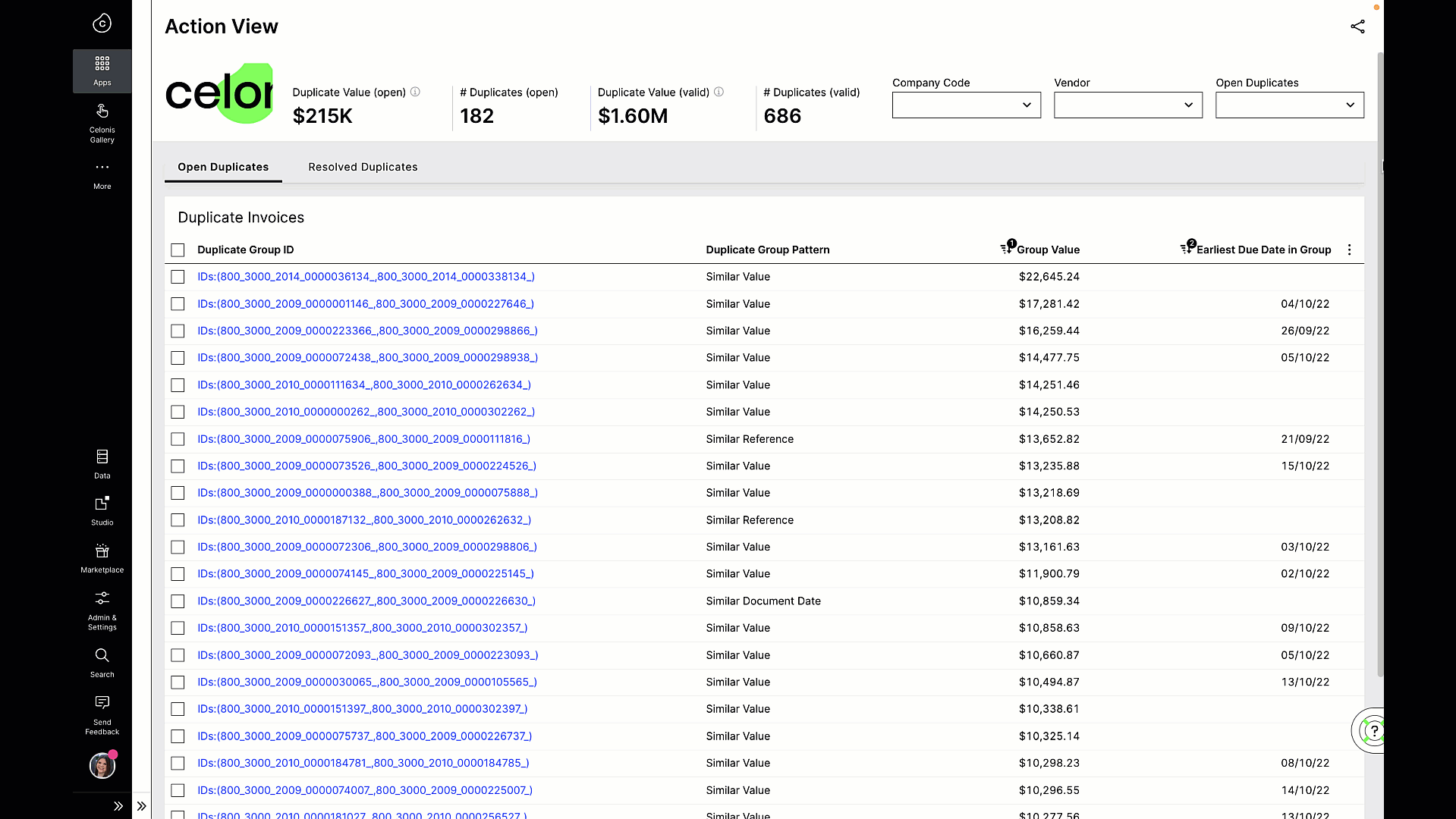 Duplicate Checking App
Identify and eliminate duplicate invoice processing and payment
Duplicate invoices hide in various ways: something as small as an accidental typo during invoice entry, one invoice being sent through the mail while another is entered into the vendor portal, or a fresh invoice sent with a quantity update can trigger a double payment.
Detect duplicate invoices along with their root causes and assess the quantified impact to the business. Alert specialists in real-time, enabling proactive steps to make sure no invoice is paid twice.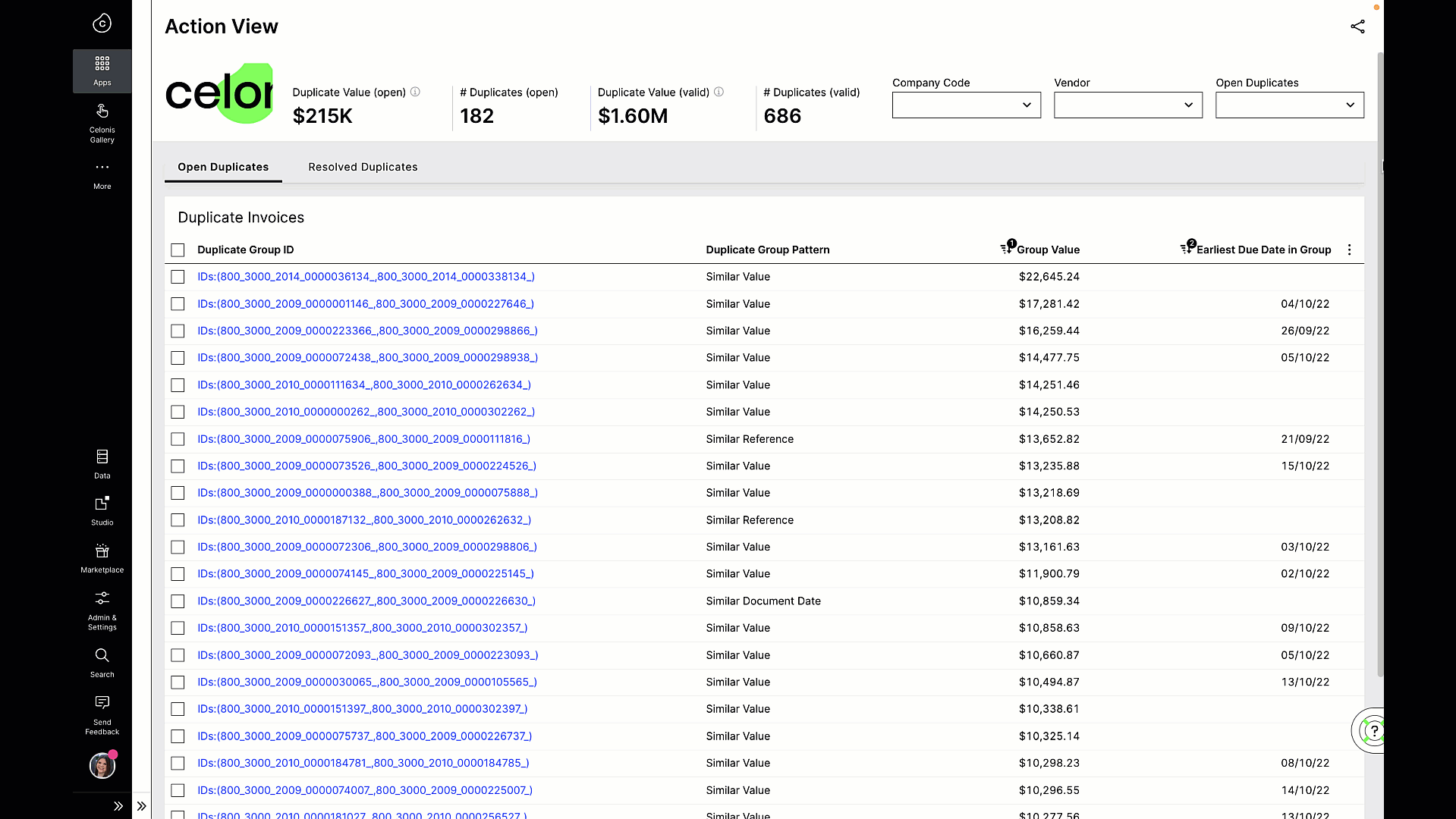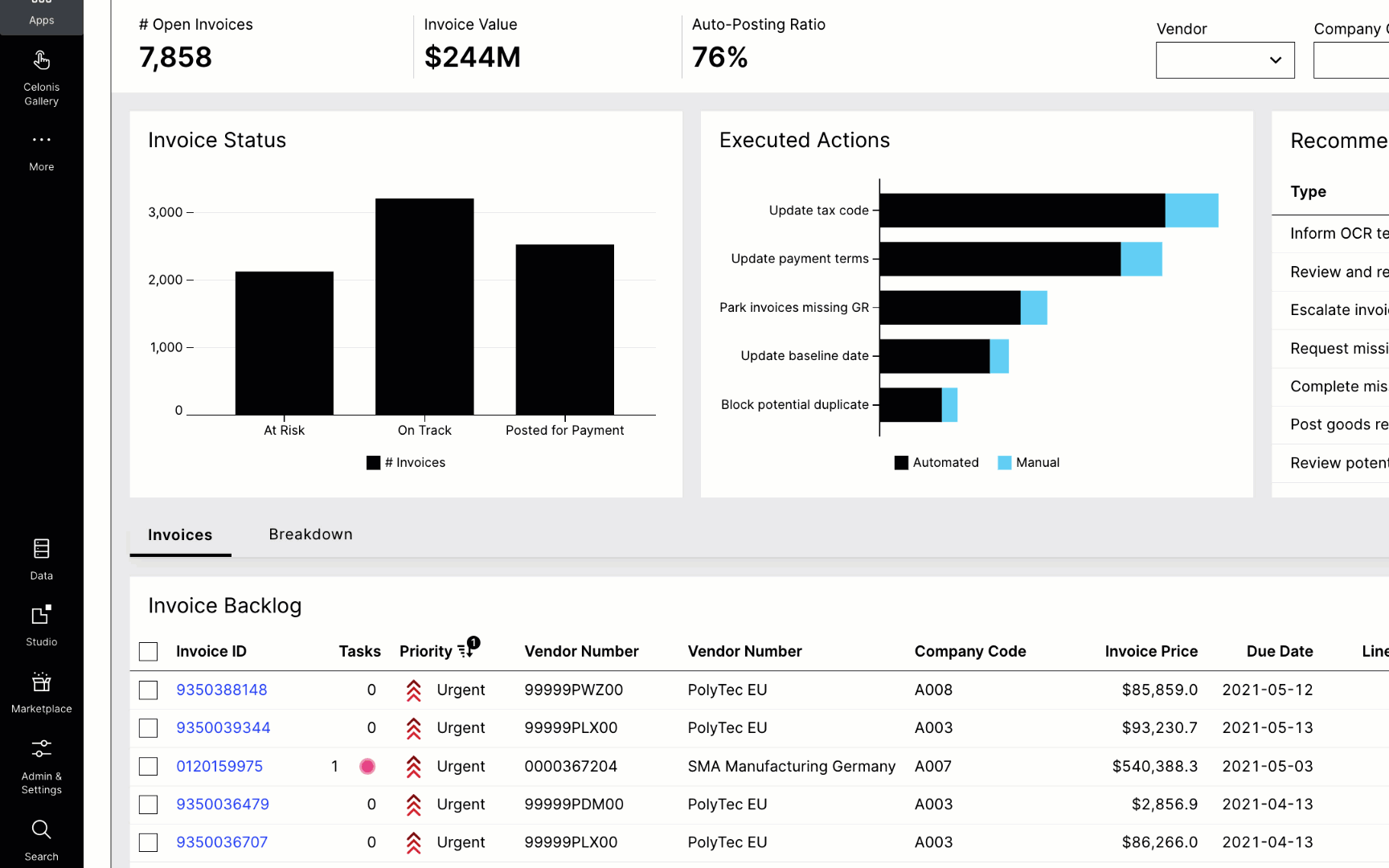 Invoice Ingestion App
Move away from a template approach and reduce effort within invoice ingestion 
Manual invoice entry is time-consuming and a natural choice for automation. But template-based OCR technologies often result in repetitive corrections that only add additional work to your team's plate.
Ensure that the first step of your process gets done right by reading each invoice with natural language processing technology and auto-posting or parking the invoice in your ERP. Benefit from high accuracy rates out of the gate and technology that improves with every correction from an AP specialist - giving you an approach to invoice ingestion that requires less effort and maintenance with every month that passes.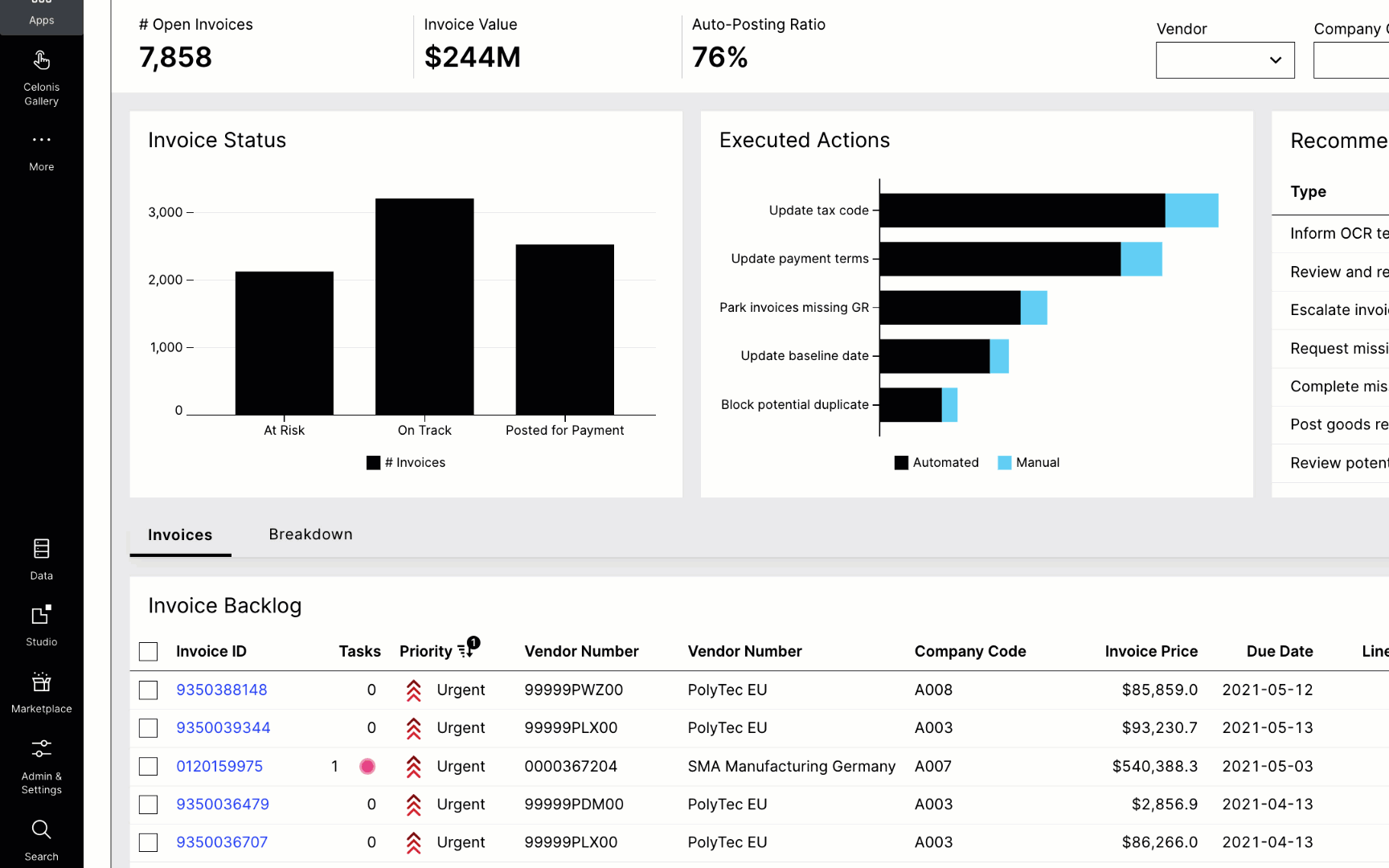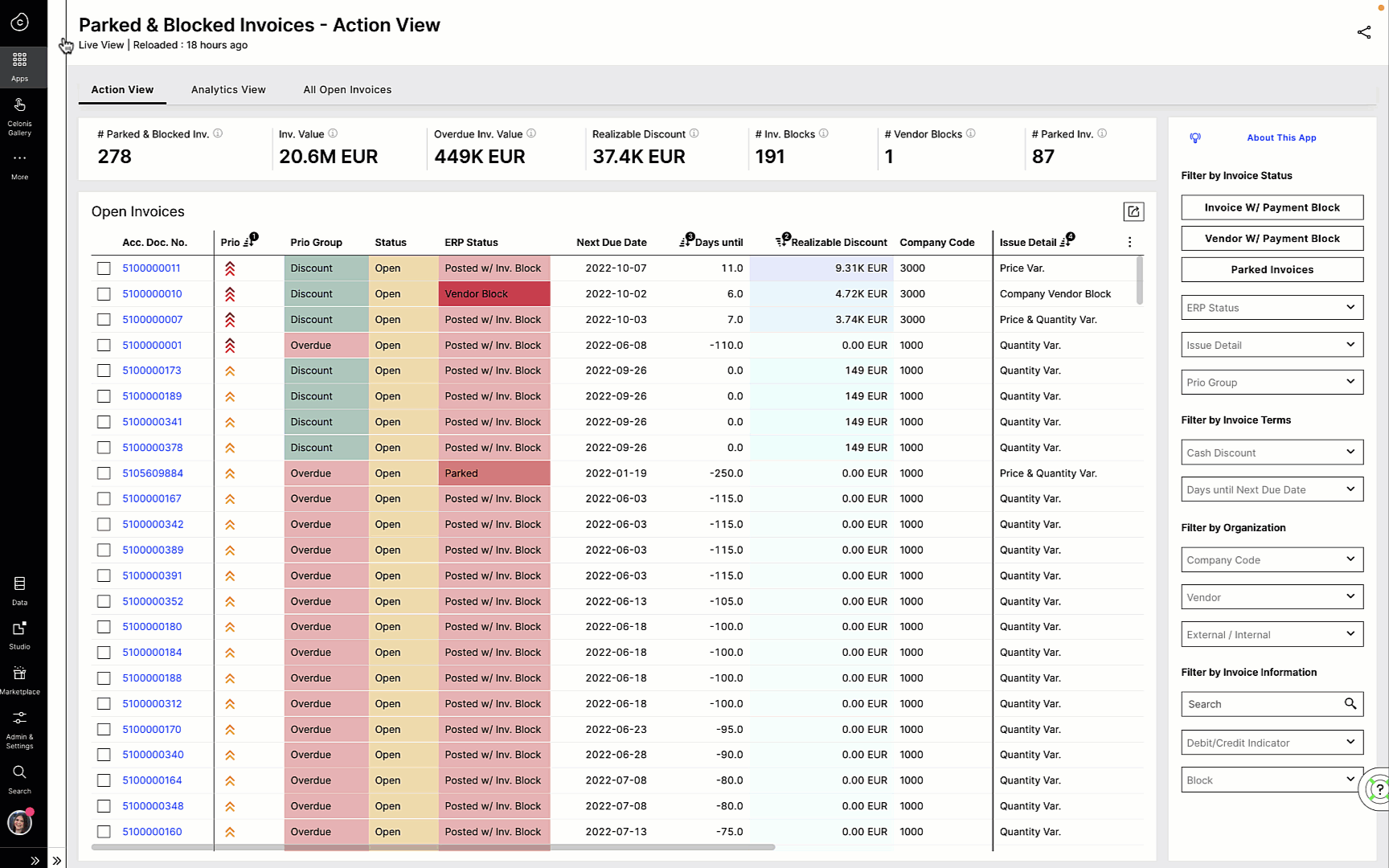 Parked & Blocked Invoices App
Change the way you process invoices, with the most urgent first
Invoices are parked and payment blocks are placed all the time. Without understanding the priority and optimal payment time of each of these invoices, they can easily be forgotten and paid late. 
Consolidate both parked and blocked invoices into one prioritized view based on business objectives to pay on-time or capture cash discounts. Review invoice information with additional context to understand the action that needs to be taken to remove the block or parked status.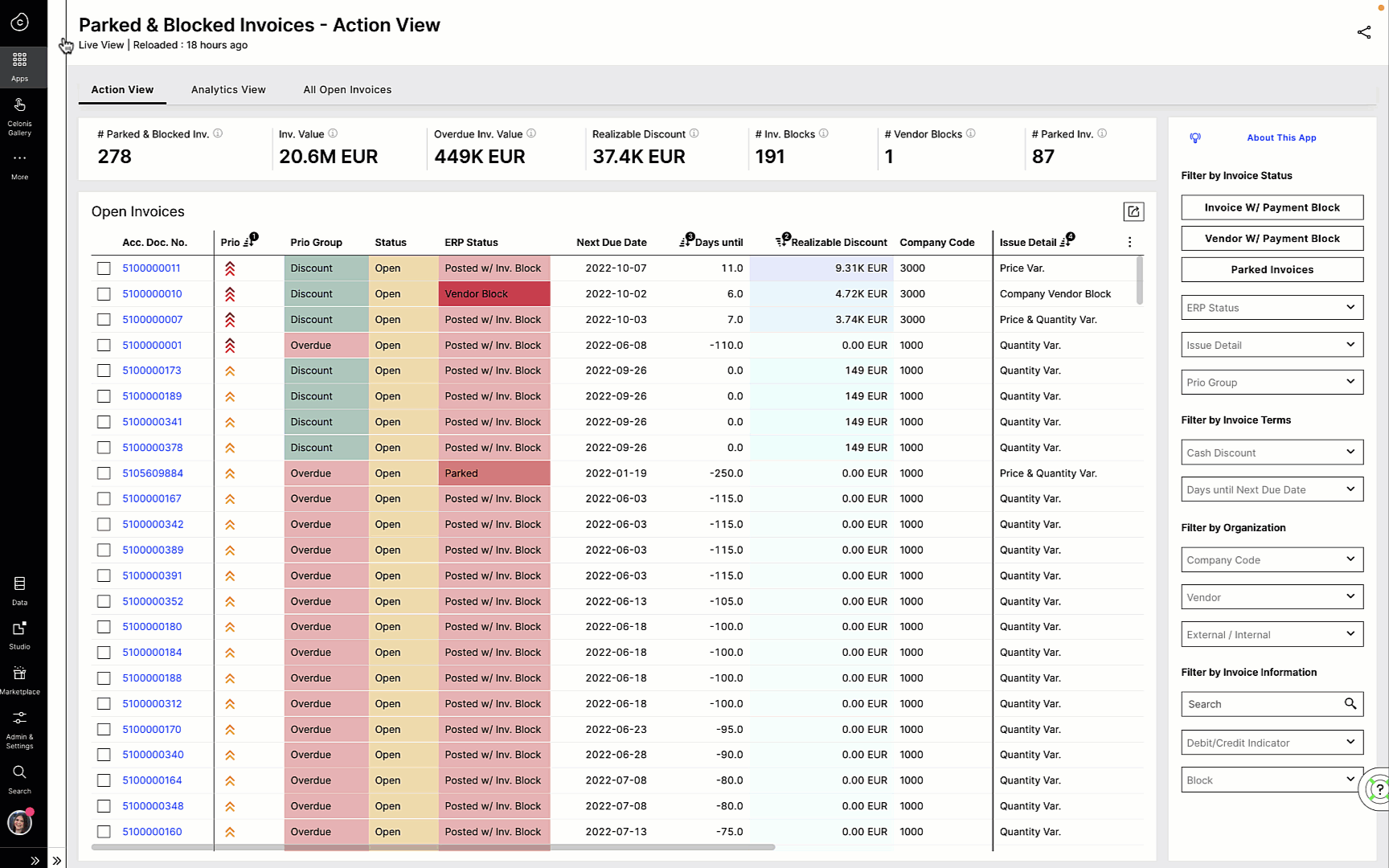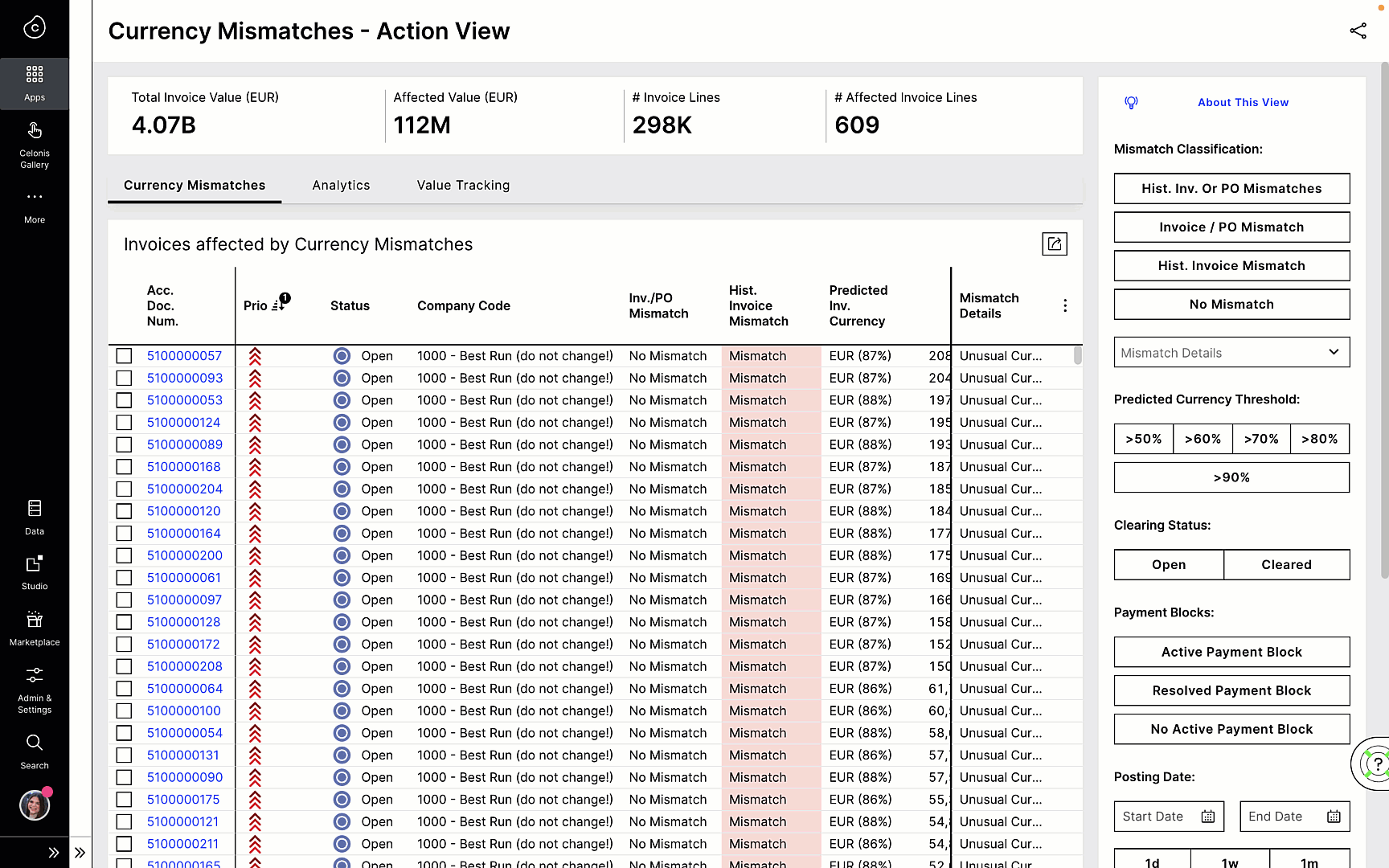 Currency Checker App
Detect and resolve incorrectly used currencies
As global transactions are rising, driving an increase in the number of currencies your business transacts in. Invoices with currencies not matching past invoices or POs can very easily slip through the cracks. Without proper solutions in place, AP departments face the risk of paying the incorrect amount.
Continuously monitor incoming invoice currencies across historical invoices and purchase orders to identify and fix incorrect currencies. With exchange rates constantly fluctuating, ensure your organization is paying the right amount.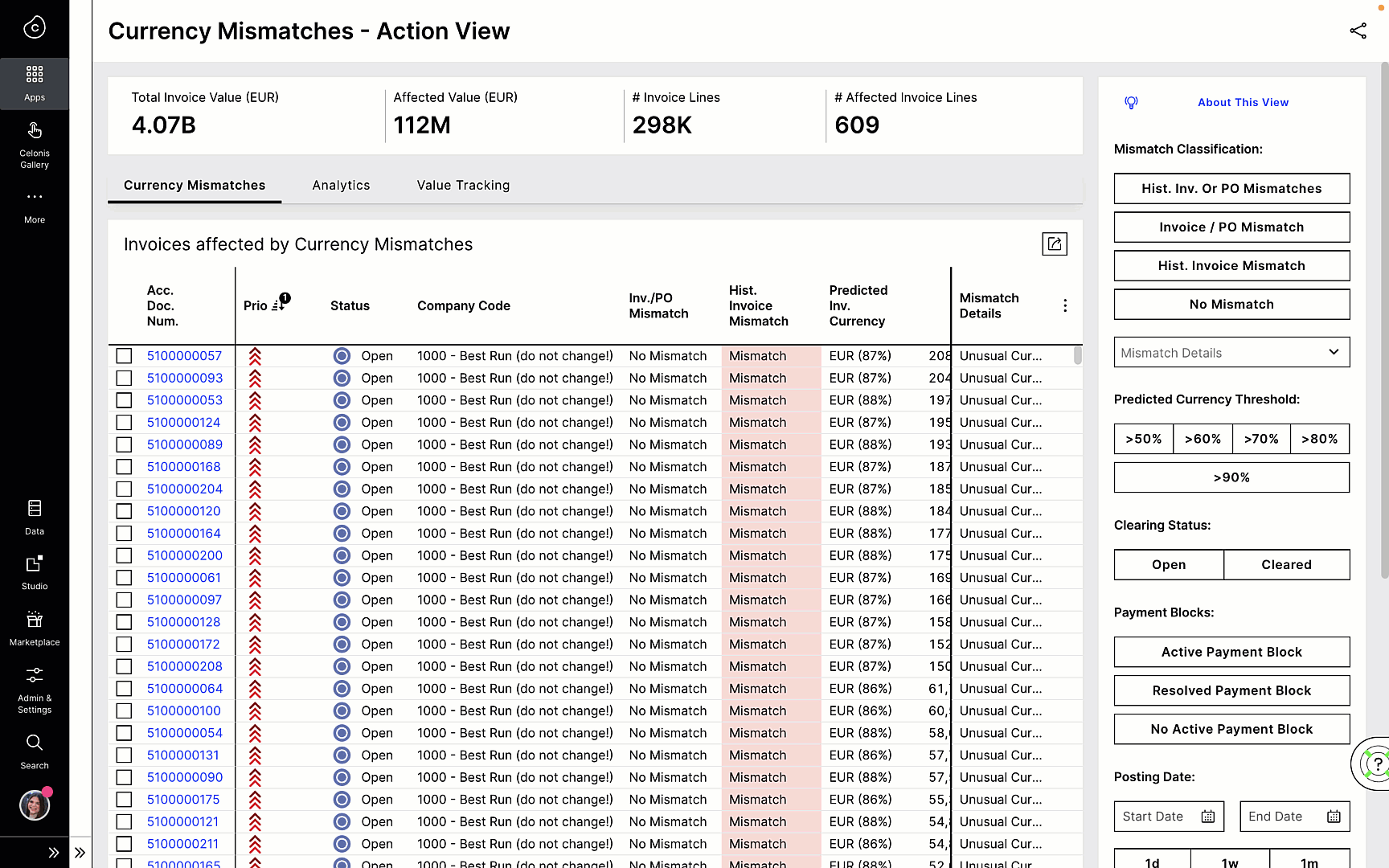 Data
Integrates real-time and streaming data across systems, desktops, and documents.
Intelligence
X-Rays processes for inefficiencies and recommends improvements.
Action
Fixes inefficiencies automatically and orchestrates your existing technologies.
Contact us
Fill in the form below and a Celonis representative will get in touch with you shortly!
Dear visitor,
you're using an
outdated browser
. Parts of this website will not work correctly. For a better experience, update or change your browser.