Department solutions
Celonis for Inventory Management
Unprecedented supply shortages and demand volatility call for a new approach to supply chain and inventory management.
Improve material availability, reduce operating costs, and free up working capital by analyzing material movements downstream impact in real-time  and taking action based on true consumption and replenishment patterns
833 of the world's best Supply Chain departments run on Celonis
$134M
saved in direct procurement and inventory carrying cost
$1M
saved in shipping costs in 3 months
$39M
in working capital improvement
Prioritize which materials to replenish based on impact
In the face of supply volatility, the quality of your safety stock levels is key to meeting customer demand. But frequent shifts in demand and a lack of inventory visibility into how inventory is actually being transacted make it challenging to keep your safety stock levels up to date.
Monitor consumption trends in real-time across systems and leverage machine learning analysis of true lead times and their standard deviations to ensure optimal safety stock levels.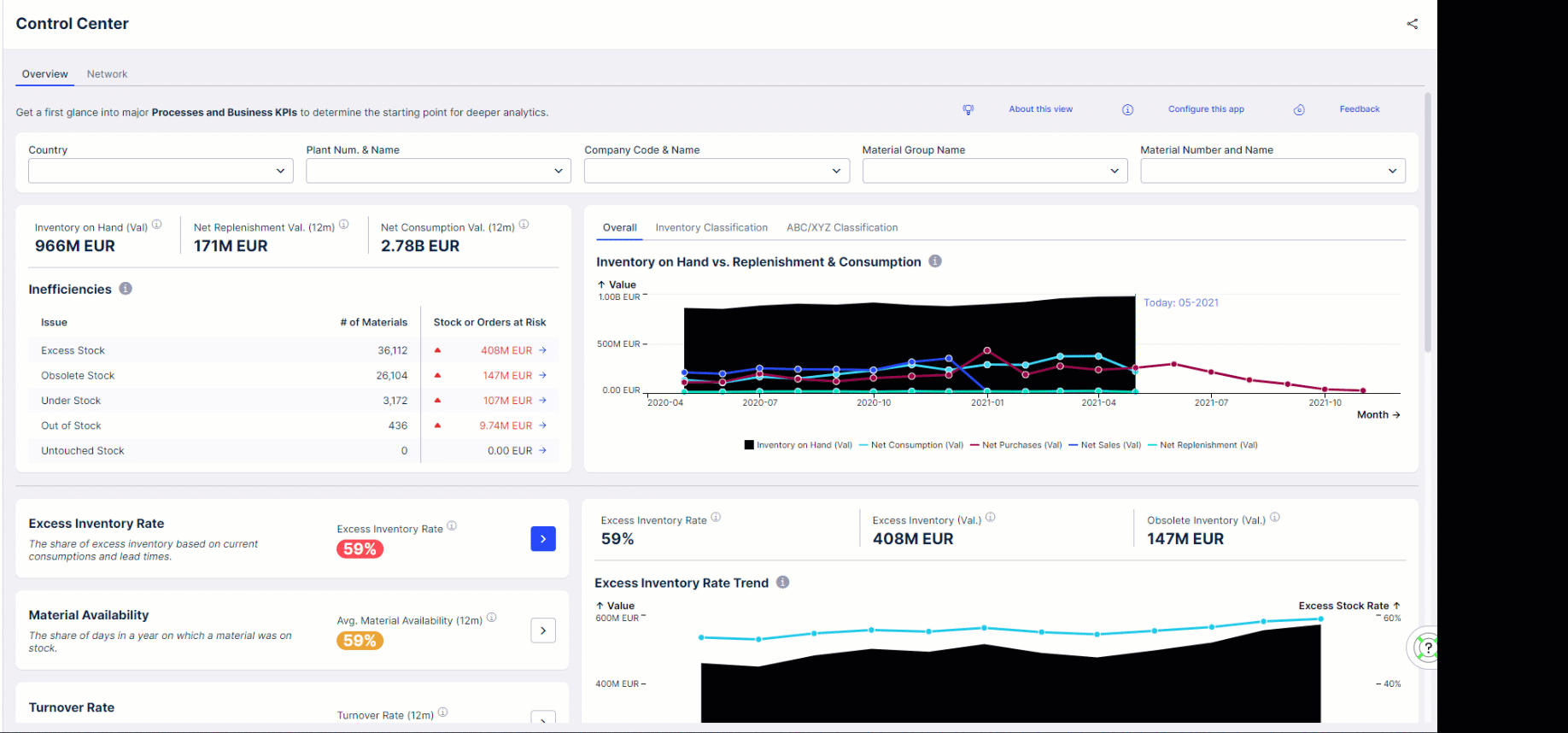 Proactively identify material at risk of excess and obsolescence
Despite the pain of certain key material shortages, excess inventory is a dark horse threatening supply chain teams. The pace of changing consumption and replenishment patterns has challenged planners' ability to know the right material and quantities to have on hand, resulting in write-offs of excess inventory.
Leverage intelligent recommendations based on true consumption patterns and lead times to improve parameters such as the minimum order quantity or reorder points and ensure your plans dynamically adjust for today's reality.
Ensure on-time in-full deliveries
Unpredictable and frequent shortages due to shifting demand leaves supply chain teams in a constant fire-fight. But they lack the right visibility to be able to prioritize the most important materials based on their impact to other products and service levels.
Act off of a prioritized list of materials based on a material-level analysis of the days until stockout – and crucially, the impact each material has on dependent products and customer orders.
Pinpoint drivers of slow turnover across departments
Accelerating your turnover rate is crucial as the cost of inventory and carrying costs rise. But identifying controllable causes of demand-supply imbalance is near impossible without a holistic view of your supply chain processes to understand the drivers behind high inventory.
Operate with a real-time cross-process view across departments, including procurement and order management, to identify and intervene in instances where a simple change like excess purchasing by one region may be the culprit behind slow turnover.

Ensure you have the right material at the right time
Unfortunately both stockouts and excess inventory are inevitable. But in many cases, both result from companies ordering with lead times that are simply not in line with the reality of how suppliers now deliver - for example, when a 15-day lead time turns into a 20-day wait or items with a 30-day lead time routinely get delivered a week early.
Assess the true lead time of each critical supplier based on historical process performance and update the lead times in your master data to ensure all orders going forward leverage accurate estimates and provide sufficient days of cover.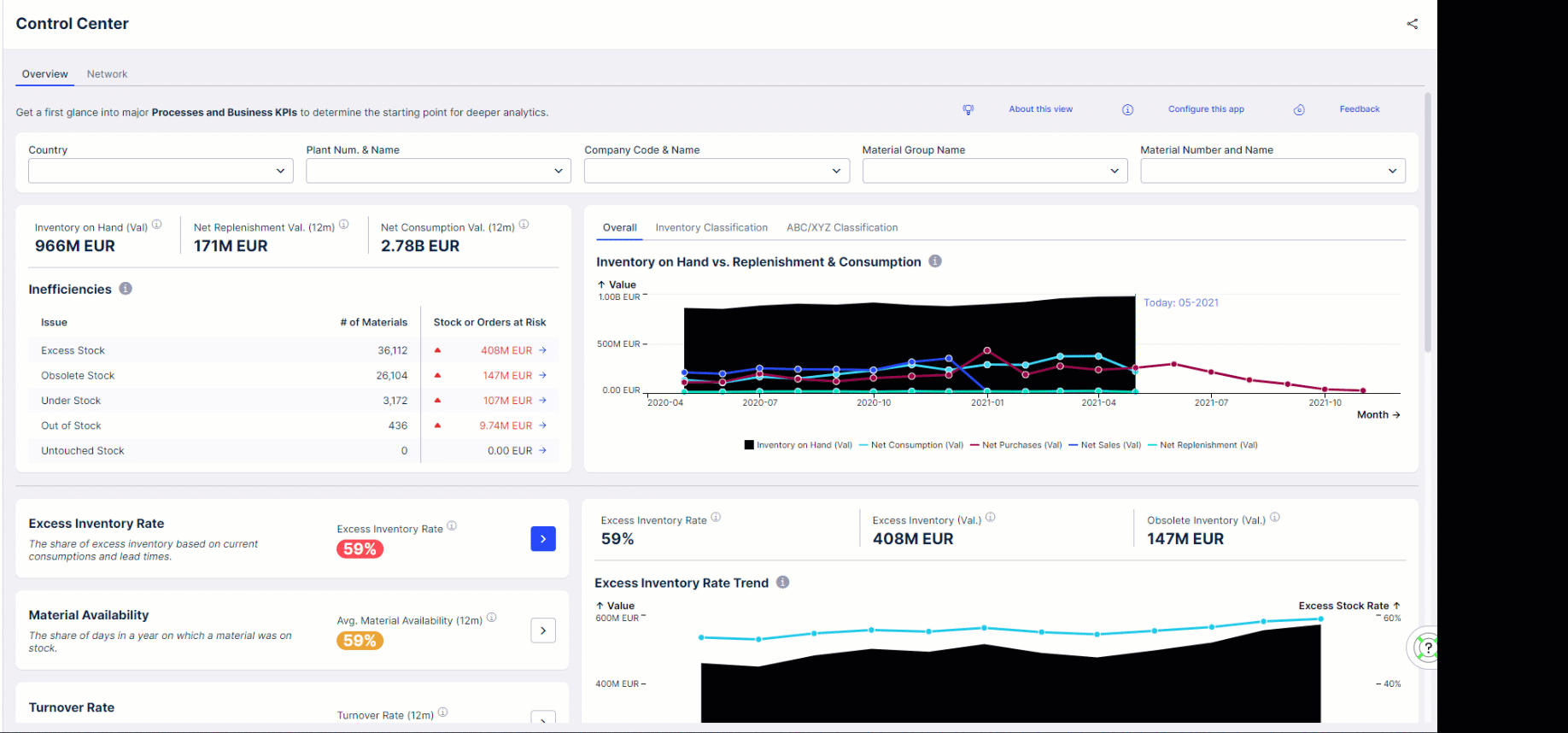 Pre-built applications get you there in weeks
Starter Kit
Kickstart a focused value journey with ease
The Celonis EMS opens up a near-infinite number of use cases for process improvement.
Prioritize the most powerful Inventory Management use cases for your organization based on the highest potential value and take advantage of guided flows to drive solutions. Built on our repository of aggregated process knowledge, The Starter Kit helps you connect to your systems, assess improvement opportunities, and get to value that much faster.
Control Center
Leverage real-time visibility into your material movements to proactively address and mitigate supply chain risks 
Having a strong link between supply chain planning and execution is crucial today to effectively respond to uncontrollable supply and demand volatility. The sooner you understand the changes in your material movements, the earlier you can take action to protect service levels and optimize working capital.   
Give your teams a centralized view of supply chain performance,  bottlenecks, and risks and enable them to steer action to protect service levels, optimize working capital, and improve productivity.
Master Data Improvement
Improve planning parameters based on real-time patterns 
Siloed systems, static data, and manual analysis can't keep up with dynamic supplier lead times and material consumption patterns leaving supply chain managers with outdated planning parameters.
Leverage intelligent recommendations based on evolving consumption patterns and true lead times to correct master data for required planning inputs like safety stock and reorder points.
Material Shortages
Outsmart supply chain shortages 
Supply-chain shortages are plaguing critical materials in nearly every supply chain, but without an understanding of the impact of that material across the supply chain network, supply chain managers don't have a way to prioritize the most impactful materials.  
Get a real-time view of the impact of shortages across your supply chain network. Prioritize which material to replenish based on stockout risk, the impact on dependent products, and open customer orders.
Data
Integrates real-time and streaming data across systems, desktops, and documents.
Intelligence
X-Rays processes for inefficiencies and recommends improvements.
Action
Fixes inefficiencies automatically and orchestrates your existing technologies.
Contact us
Fill in the form below and a Celonis representative will get in touch with you shortly!
Dear visitor,
you're using an
outdated browser
. Parts of this website will not work correctly. For a better experience, update or change your browser.